The Medicine Bow National Forest offers over 475 miles of trails for snowmobilers. Snow depths can range from 2 ft to 12 ft! The combination of snowmobile and marked trails for skiing and snowshoeing make the Upper North Platte River Valley a winter destination.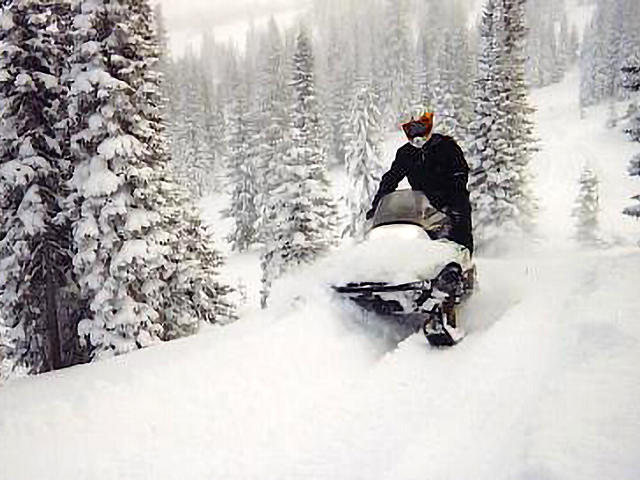 SNOWMOBILING
Snowy Range Mountains, located between Encampment and Saratoga, have been consistently rated in the top 5 of "Top 15 Trails in the West" for snowmobiling by SnoWest magazine. The Snowy Range Trail System is maintained through cooperative efforts of the Wyoming Department of State Park & Cultural Resources – Division of State Parks & Historic Sites and the U.S. Forest Service.
There are 175 of groomed trails and 150 miles of ungroomed trails with signs, and several meadows have deep powder with snow depths of 12 ft possible. Public lands for snowmobiling with lodging and guided tours available make the Snowy Range Mountains an excellent destination for beginners and advanced snowmobilers. Elevations range from 7,000 to 11,000 ft, with season temperatures from November to May ranging from +30˚F to -30°F.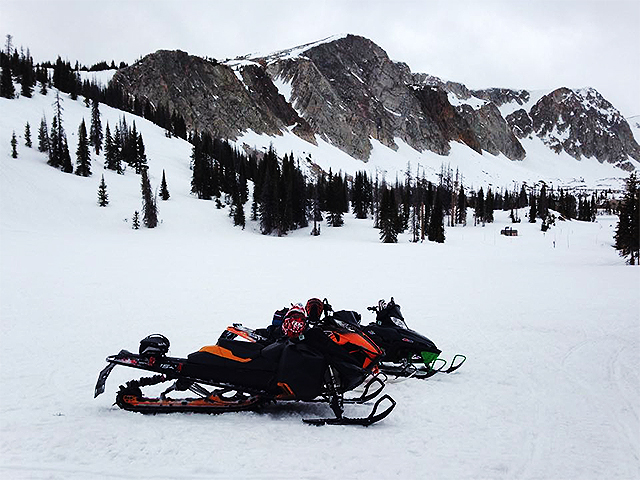 Sierra Madre Mountains are known for backcountry trails, and are also rated in the top greeen Snowmobile !ten of Wyoming's top destinations by SnoWest. 50 miles of groom trails and 100 miles of ungroomed trails have snow depths ranging from 2 ft to 8 ft. Elevations range from 7,000 ft to 10,000 ft, with the snowmobile season going from November to April. Temperatures during this time range from +30˚F to -30°F. Trail maps are available through the Saratoga/Platte Valley Chamber of Commerce.
SKIING & SNOWSHOEING
Cross-country skiiers and snowshoers can enjoy the Brush Creek Ski Trail and the Bottle Creek Ski Trail in the Sierra Madre Mountains, just minutes from Encampment. Snow machines are prohibited from both trails, and they are maintained for those who enjoy the quiet and serenity of the forest. The trails are laid out in a series of loops ranging in length so you can plan your adventure. With names like "Starvation Trail" and "Windy Point," you can count on a great experience. Maps showing the direction of difficult slopes and the mileage are available at the Chamber and the USFS Ranger Station.
Groomed trails for cross country skiers and snowmobilers in the Snowy Range Mountains and Sierra Madre Mountains exceed 300 miles, and with an annual snowfall of over 20 ft, there is sure to be plenty of powder for everyone.
Information on travel restrictions, OSV registrations and trail closures may also be found on the Medicine Bow National Forest website.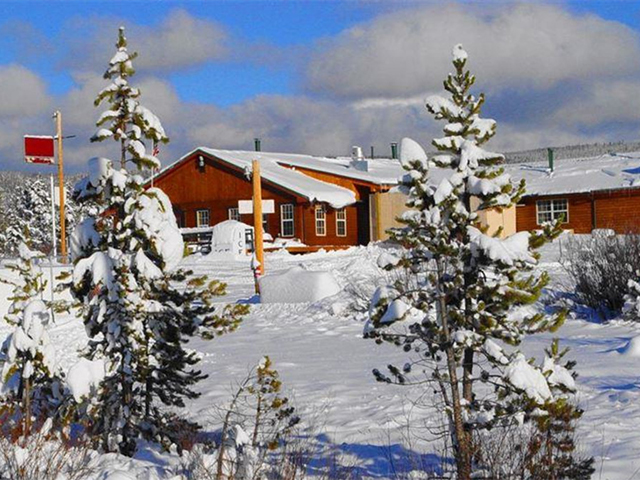 AMENITIES
Restaurants and lodges are located on the Snowy Range in Ryan Park for snowmobilers to stop and get something to eat and drink or spend the night. You can drive your snowmobile right up to the restaurants and lodges. While there are no restaurants or lodges currently in the Sierra Madre Mountains,
Encampment
is only a few miles away and offers food and lodging.
photo right: The Rendezvous Lodge
ADDITIONAL INFORMATION

Good News in the "Good Times Valley"
SnoWest Magazine "Top 15 Trails in the West" Snowy Range #6 in 2013 (top 6 since 2003)
SnoWest Magazine "Top 15 Trails in Wyoming" Snowy Range #3, Sierra Madre #9 (top 10 since 2003)